Leroy, the Banff National Park dog is a three-year-old German Shepherd and one-of-a-kind in terms of his certification as he is a Canadian Avalanche Rescue Dog Association (CARDA) and a police dog.
With these two certifications – along with other profiles – Leroy is tasked with various jobs in assisting people and protecting the park. In November, he got to use a couple of his skills to successfully search for people. That is why we are officially declaring him Banff's goodest boy.
"We got that call and then it's just a straight sprint to the truck," said Logan Bennett, Leroy's human partner and handler.
Bennett, like Leroy, has a unique skill set of visitor safety training, avalanche skills and police training and on Nov. 10th when the missing persons call came in, he was ready to roll.
The call was for an overdue hiker who was on or near the Pipestone Trail in Lake Louise. It came in at 4 p.m. and by 6 p.m., the team started on the scent.
"When we started walking, it was snowing and blowing. It was not great, but the temperatures weren't too bad, just hovering around zero ish. It was manageable. It was sweaty, that's for sure," said Bennett.
"I also had to grab my shotgun as well," said Bennett. "Because it was that time of season, I was a little concerned that there might have been some predation, maybe a bear involved. It's definitely a concern and especially having Leroy. My understanding is that predators are pretty interested in Leroy, so I have to have really good control of him."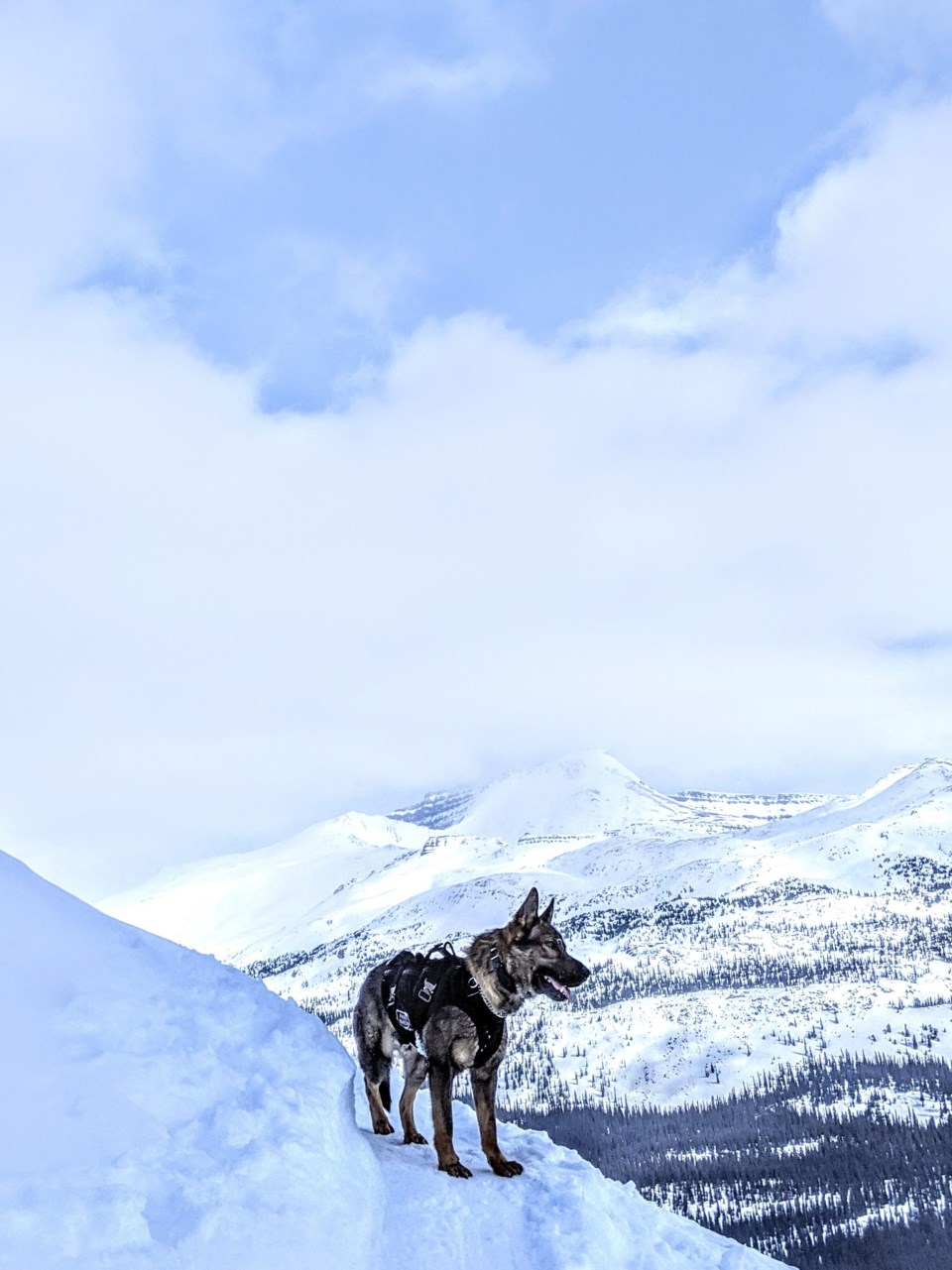 For the next nine hours, Leroy tracked the scent of the missing hiker while Logan ran behind, something they have practiced before, but never that long.
"In terms of the relationship, you're really reading as much as you can on a long track like that," said Bennett. "And he's giving you feedback in terms of his interest, the way he's acting, the way his tail looks, the way his back hair stands up, how he is excited about something. Whether he is kind of starting to pay attention to something else off into the distance."
Based on their relationship, Bennett believes that usually in these moments Leroy is just picking up a scent of an animal.
"So I have to re-task him," said Bennett. "Obviously I'm not expecting him to be a hundred percent on all of the time because it's just impossible, given the length and time he is working. I have to give them a better leeway to act like a dog, just so they can keep working through these scents."
Bennett and Leroy's relationship has developed over the last two years of working together. They are constantly training and practicing for these scenarios, however it is the operational calls that give Bennet the feedback to read Leroy's behaviour even more precisely.
"Once you experience it, you understand how the dog is reacting and what it means," Bennett said. "The more of those calls you get and the more you can really read your dog. When you have a ridiculous track that goes on, all of that practice pays dividends, because you actually know what he's doing when he's doing it."
Around 1:30 a.m., Leroy found the missing hiker.
"He jumped on her and he was so excited," said Bennett. "He was super pumped to meet her. She was so happy to see him. It was really nice. It was super cute and I let him off the lead for it, because the whole time you are tracking, Leroy is on a long line."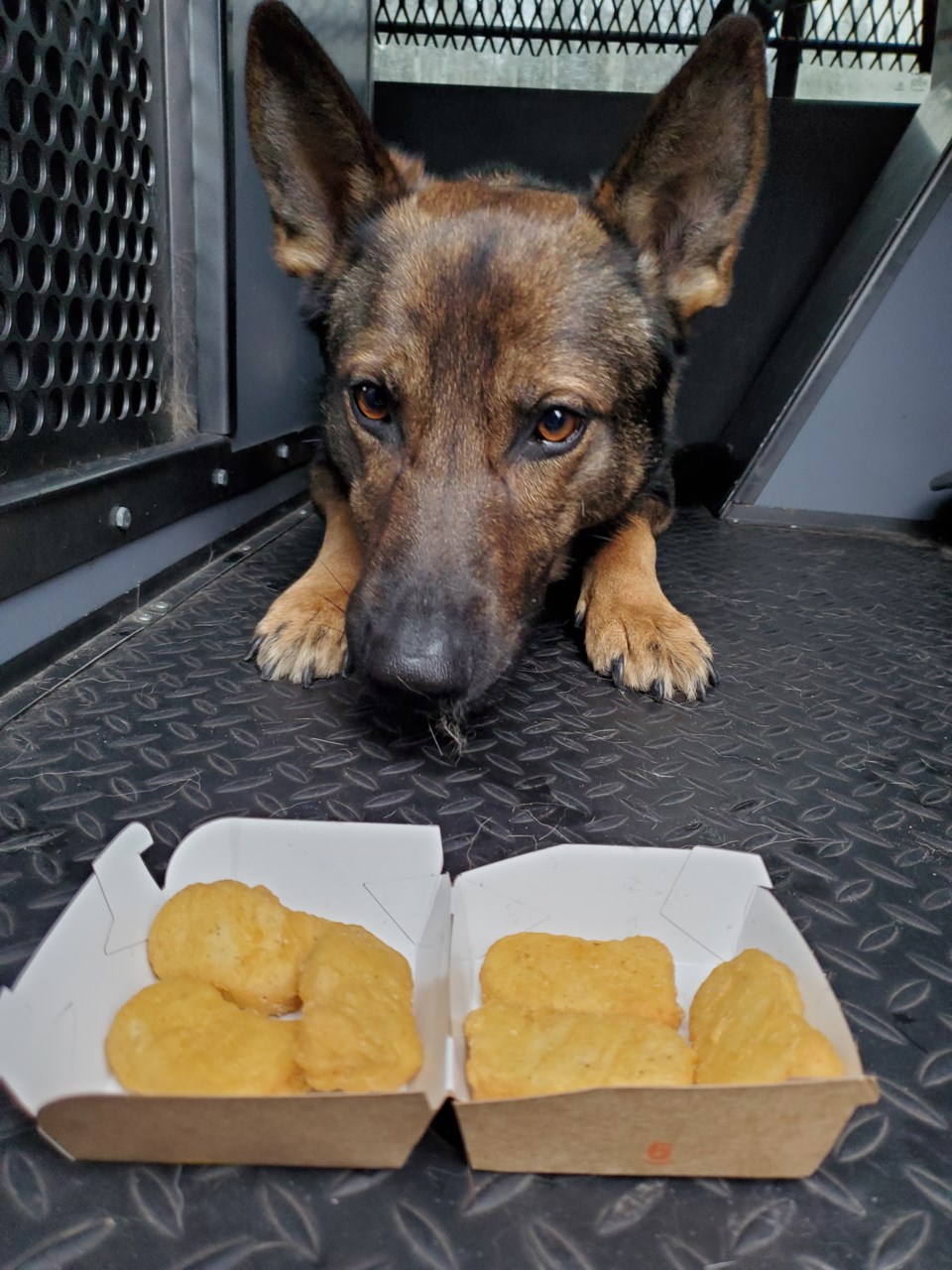 After the find, Bennett was rewarded with sleep and Leroy with chicken nuggets – his favourite good boy treat.
Less than two weeks later, the duo got a call for a lost person at the back of the Lake on the Plain of Six Glaciers trail.
"We got the call around 7 p.m. and found them at 11:30 p.m.," said Bennett.
Although the back of the lake call was relatively straightforward, it is always good to bring Leroy.
"For Pipestone, those tracks were very obvious to us until they hooked around," said Bennett. "Then Leroy was key where it got very confusing, for crossing rivers or other areas that snow had blown away. We wouldn't have been able to find her without him."
Less than a week after that call, Leroy got a chance to use his avalanche profile.
"We got a call about a possible skier involvement in an avalanche," said Bennett.
The duo got gear organized, loaded up and flew straight there. Once on the scene in Lake Louise, it was really hard to tell what the tracks were in and out.
"Because it's right on the boundary, there were quite a few tracks around," said Bennett. "There's a lot of hang fire up there, so there was some worry about whether or not it could come down. We made a decision just to put myself, one of the specialists and the dog on the spot. That way we could limit exposure to avalanche danger.
"We also had four lookouts for Lake Louise ski patrol staff – who are really competent – on a Ridge watching us. I was a hundred per cent confident that those guys could recover us in a timely fashion if the worst happened or if we couldn't extract ourselves."
We got onto the slope and it was pretty dicey because we wanted to be quick.
The pilot, Todd Cooper of Alpine Helicopters, dropped the duo along with a visitor safety specialist on the slope.
"I started with Leroy and then the specialist started doing a transceiver search," said Bennett. "We didn't find anything at all."
They believed that there was no one in the avalanche.
"It's a pretty stressful situation because you're really relying on how you're reading the dog to tell you whether or not someone isn't in the avalanche," Bennett said. "We know that if someone was in that, he's going to recover them really easily and fast, but we have to make a really big call."
As a dog handler, they have to one hundred per cent lean on their dog to make sure that no one is buried.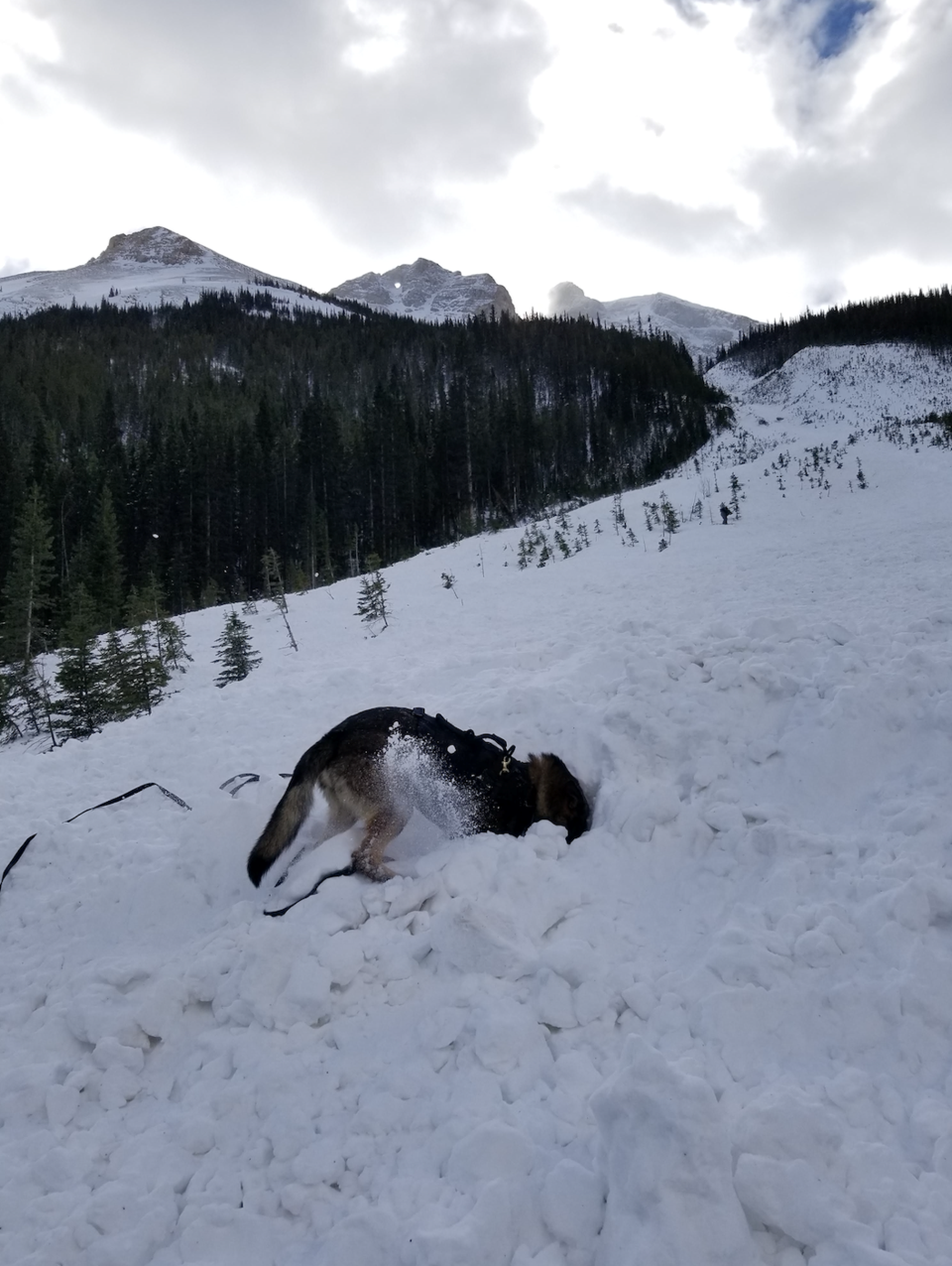 He's going to indicate to us if someone is there. Then he won't stop digging until he finds the generalized human scent," Bennett said.
Bennet can read Leroy's reactions. Leroy didn't show any indication of human scent. However, for this case, in the necessity of time, if Leroy found any slight interest, Logan marked the spot and it was heavily probed.
"As a function of probing it encourages the dog to dig, this causes training scars as the dog uses probing to tell him there might be something interesting which you don't want and will have to deal with later by training this flaw out," said Bennett.
Bennett hasn't had the opportunity to be on a live call where a person has been confirmed in an avalanche.
"I don't know what that looks like for a Leroy," said Bennett who has been it in practice and when Leroy has recovered human remains on the surface.
"We've seen what that looks like. I know that Leroy is really committed, so I am certain that we still did the right thing that day. But those are the questions you have for yourself that the, and you have to be a hundred per cent on that. If you're not a hundred percent on that, you need to work harder. And so that's what drives us."
Although, Leroy might also be driven by chicken nuggets.