Skiing the Bow Valley's wondrous and plentiful ski slopes is one of the purest joys the winter season has to offer: bright soft snow, crisp winter wind, adrenaline fuelling the body as you glide down the mountain, and, of course, riding the ski lift to do it all again. From Norquay, to Nakiska, to Lake Louise, there is no shortage of runs in the area from green to black diamond to get that blood pumping.
In fact, each slope has its own unique tale, whether it received its name as a tribute to a historical event, or a hat-tip to an influential community member. From Whoop Up to Brown Shirt, the names are often interesting, sometimes indicative of the runs themselves, and occasionally slightly puzzling.
As to how some of these slopes received their names, 51° North went searching for some answers. We've compiled a list of some of our more interesting findings here.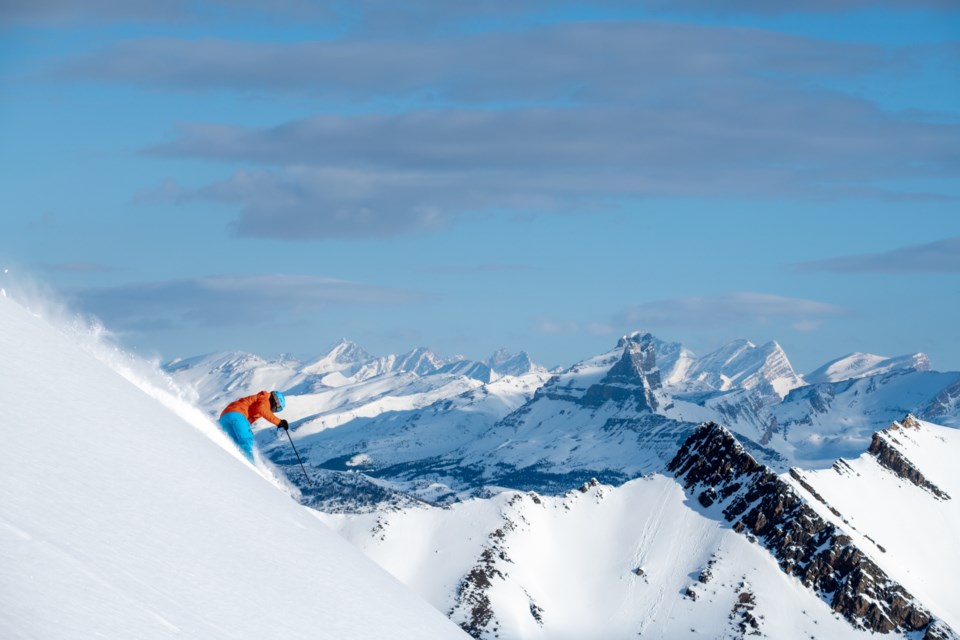 Lake Louise Ski Resort
Lake Louise Ski Resort is located on Whitehorn Drive in Lake Louise in Banff National Park. It's 57 kilometers west of the Town of Banff. Known as the only place in Canada to host the FIS Alpine Ski World Cup, Lake Louise Resort offers skiing with a side of phenomenal views. It's operated as a ski hill since the 1920s, with its first lift construction occurring in 1954.
Wiwaxy
If you're familiar with the Rockies, you might recognize this name from a well-known peak in Yoho National Park, British Columbia. In fact, geologists even named a species in fossilized form found from the Burgess Shale after it; Wiwaxia corrugate. The name
Wiwaxy itself comes from the Stoney Nakoda First Nation, however, according to Sarah Magyar, the content supervisor for Lake Louise Ski Resort.
"The word wiwaxy is originally from the Stoney First Nation Nakoda language meaning 'windy,'" she said. "This run, particularly, is named after Wiwaxy Gap at Lake O'Hara."
This beginner-friendly run is certainly a windy one.
Brown Shirt
As mentioned, Lake Louse Ski Resort is almost 100 years old, and this particular name is an inadvertent reflection of that. Brown Shirt got its name, according to Magyar, from exactly that — brown shirts. "The old ski patrol uniform jackets used to be brown, hence 'Brown Shirt," she said.
Lake Lindsey Way
Lake Lindsey Way is the resort's way of honouring a pretty accomplished woman — Lindsey Vonn. Vonn won the aforementioned Lake Louise Audi FIS Ski World Cup more than a dozen times. In fact, Vonn has won 82 World Cup races around the world, making her an all-time women's record holder.
Nakiska Ski Area
Nakiska Ski Resort is located on Mount Allan Drive in Kananaskis Country. Approximately 83 kilometers west of Calgary, the ski area was initially created for the
1988 Winter Olympics. It officially opened in the fall of '86. It's best known for its Olympic involvement, but, of course, the views aren't bad either. Nakiska is a Cree word which translates to 'meet.'
Walking Buffalo
The Walking Buffalo run at Nakiska is named after a well-known Albertan Chief, according to spokesman Matt Mosteller. "Walking Buffalo [is] named after Alberta's most famous Stoney Chief, or 'Eagle Tail' — honouring a Peigan Chief," he said. Mount Allan is located on what was once the Stoney Nakoda's traditional hunting grounds. According to information from Mosteller, Chief Walking Buffalo was integral in the creation of both Banff Indian Days and the Calgary Stampede. He was also a founding member of the Indian Association of Alberta.
Gold Road
Staying true to Nakiska's Olympic roots, Gold Road is named as a tribute to all those who contributed, volunteered or worked during the 1988 Olympics. Mosteller said it's a way to thank the community for all it did during the iconic time for Alberta. "Gold Road [is] named after Gold chair," he said. "Named for Gold medals and a tribute to [the] '88 Olympics. A road named Gold in tribute to Canadians who volunteered… A community coming together."
Passmore Pass
This intermediate run was essentially named in honour of a skier himself. In fact, this particular skier, who Mosteller said has since passed away, complained because he was unable to quickly get between two runs. "A great example of listening to your guests," said Mosteller. "[It was] named for an old season-pass holder who said 'how can you not get from Mighty Peace to Mid North Axe [more quickly].'So Passmore Pass short cut was created."
It might be true, then, that speaking up is sometimes worth it — at least at the Nakiska Ski Area.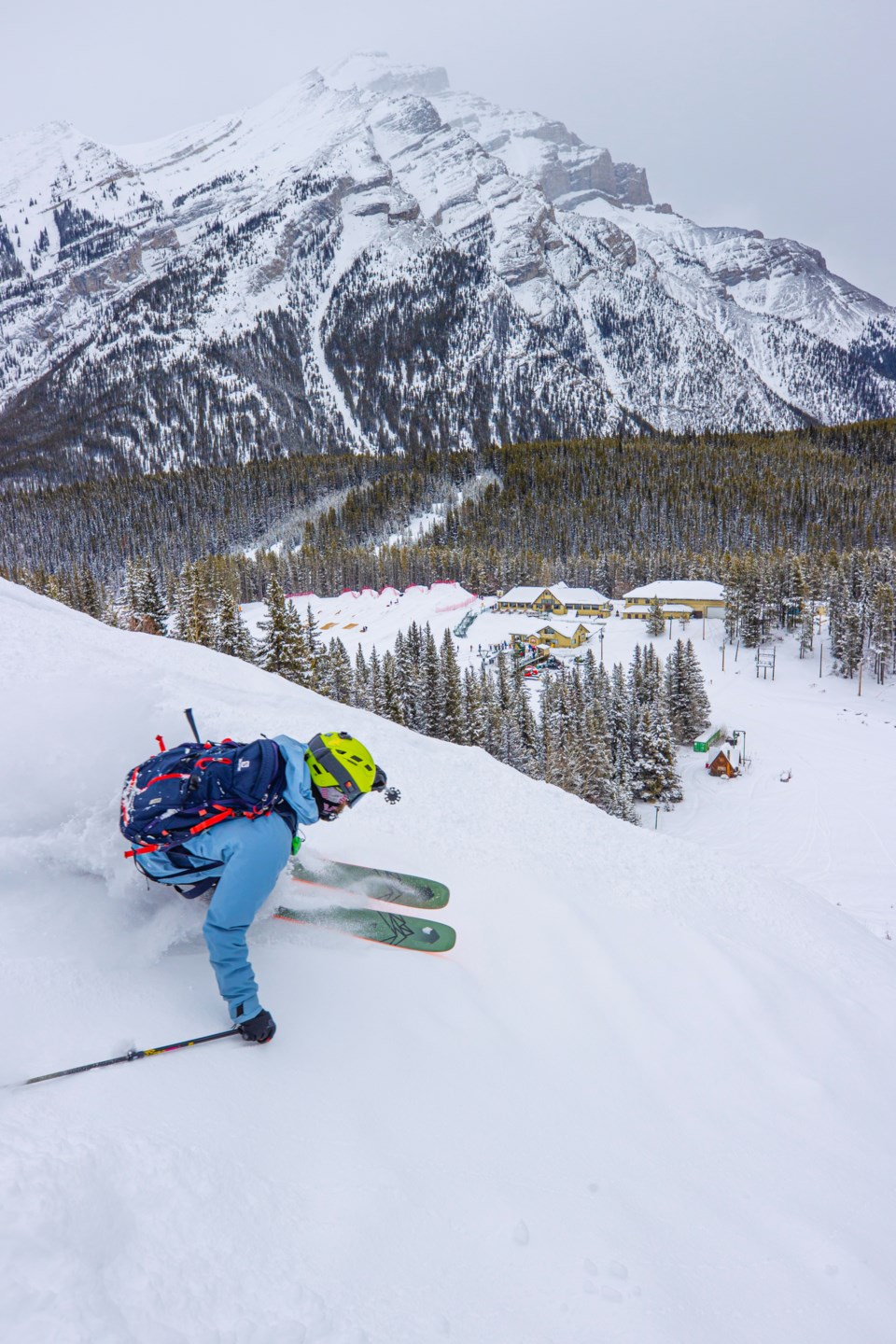 Mt. Norquay Ski Resort
Mt. Norquay Ski Resort is located in Banff National Park. It's very close to the town of Banff, in fact, directly north west of it. The mountain itself was named after a Manitoban Premier, John Norquay, after he climbed the mountain — though he allegedly never reached the summit. A ski lodge opened on the mountain in 1929, though ski runs date back to 1926.
Wiegele's
According to Andre Quenneville, media spokesperson for Mt. Norquay, this run is named after a well-known entrepreneur and his wife. "Wiegele's [is named] for Mike and Bonnie Wiegele, who started the Banff Alpine race club over 40 years ago," he said. Mike Wiegele is notorious for his heli-ski operations in B.C. He opened his first operation in Valemount in the '70s.
Memorial Cliffs
This black diamond has a name that reflects its origin. Quenneville said he needed to check with the ski patrol on this one, so he asked his colleague John Thornton, a climbing guide for Mt. Norquay. Thornton said the run received its name as a sort of memorial in itself.
"My understanding is 'memorial' honours Banff and Bankhead residents who died in WW1. Some were brothers," he said. "The community built a little memorial ski cabin where the lookout now sits."
Bruno's Gully
Another infamous mountaineer, Bruno Engler — described by the Canadian Encyclopedia website as "the complete renaissance mountain man" — was a
skier and instructor, mountain climber and guide, as well as a "pioneer in avalanche safety." And of course, Bruno's Gully is a hat tip to the renaissance mountain man himself. "[It's named after] Bruno Engler indeed," said Quenneville. "Due to his time at Norquay in the '50s and '60s as a Parks Canada ski patroller and avalanche forecaster."