CANMORE – Two climbers meet at the gym and decide to climb outside together.
Something goes wrong and they need a rescue and supported each step of their way by other climbers.
It's not necessarily a typical story for Canmore, but isn't unheard of and it has actually happened more than one might think. It's not uncommon because Canmore is filled with amazing climbers who care about each other.
It all started at 5 a.m. on Saturday (July 10) when local climbers Matt Esslemont and Max Blair met in the parking lot below the East End of Rundle (EEOR).
The two were stoked to get an early start on the multi-pitch called Generosity, which is graded as 5.9 and has 13 pitches. The Canmore rock wall is a rework of a climb called Free Fall that was first ascended by Eric Dumerac, Tom Wolfe and Paul Norrie in 1998. The climb is a trad (traditional) route meaning that climbers would be placing gear in cracks and other features to protect themselves in case of a fall.
"The whole day was perfect, up until I broke a hold, but even after," joked Esslemont.
Esslemont was almost finished with the ninth pitch and just about five to 10 feet below a bolt when the jug (a large hold) broke off the wall. As he fell, two pieces of gear came out. Luckily, his last placement held, but he had already fallen about 30 metres, hitting many ledges along the way.
His partner was using a Mega Jul, a brake assist belay/rappel device made by a German climbing brand known as Edelrid – something he attributes to the catch of the factor two fall. Fall factor is the ratio of the length of a fall versus the amount of rope in service between climber and belayer. Climbing rope has elongation or stretches under load - the more rope and protection points that are between the climber and belayer, the more stretch or elongation there is to absorb the energy of the fall.
"I learned that a redirect really saved the rope," said Blair.
A redirect is when the lead climber puts in a quickdraw to help slow down the force of a fall. Blair was thrust into the wall with the force since he was belaying off his harness, but was relatively unharmed. In hindsight, Blair said he would have used a fixed point belay – a relatively new technique that would have helped the belayer not get jolted by a leader fall.
After Esslemont stopped falling, Blair was able to yell out and see what condition his partner was in. Thinking fast, Blair yelled to the party below – Bryan Daneau and his son Antone, who were on the eighth pitch, to call for help. Although it's often not advised to climb under other parties on multi-pitches in the Rockies due to rock fall, they were happy to be there to help. Blair lowered Esslemont to the ledge with the Daneau party who secured him to their anchor.
"I remember I was breathing heavily and just double, triple checking everything," said Blair.
At this point, Blair had to rappel down to the next ledge. He methodically constructed an anchor, adding additional gear which he left to make sure it was "bomber", which is a term climbers often say when referring to a placement that is very well placed and secure.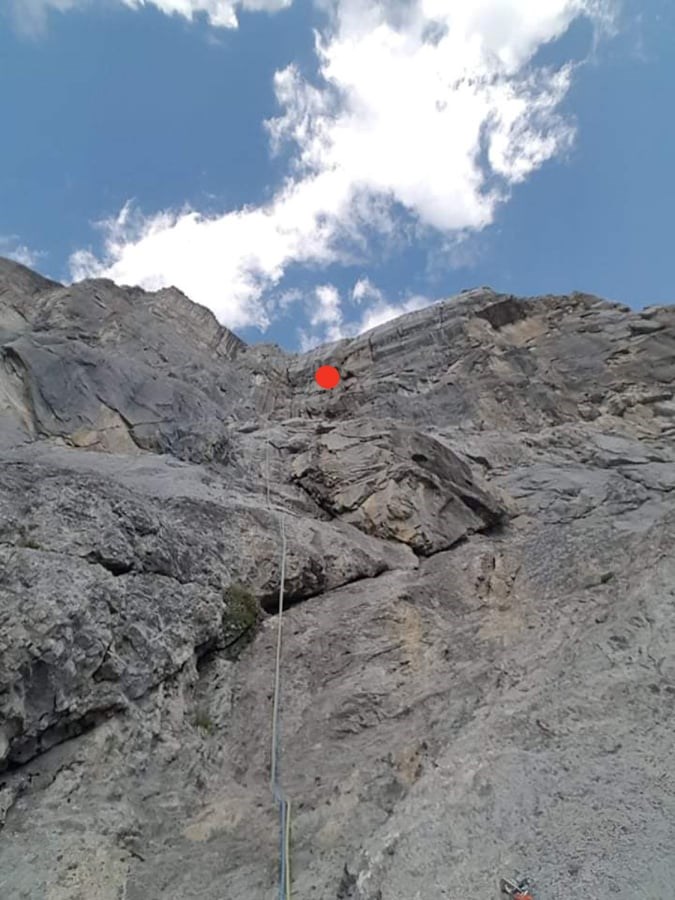 Once the two parties were together, they took care of Esslemont – who had just taken a terrible tumble and had scraps and blood all over his arms – as best they could. However, Esslemont, who naturally has a sense of humour and was in good spirits and kept the group entertained with his desire to have a strawberry smoothie from Tim Hortons.
After about two hours, Kananaskis Country Public Safety (KCPS) arrived by air in a Bell 407 piloted by Todd Cooper of Alpine Helicopters. To those who aren't familiar with KCPS, they're kept very busy on weekends responding to mountains rescues of all kinds. This summer, the team responded to 21 calls in one weekend – a new record. They often have to triage rescues as they get so many calls. Since Esslemont's condition was not life threatening, they arrived as soon as they could.
First on the scene was public safety specialist Darren Vonk, who was longlined to the ledge, put in a bolt and secured himself to size up the scene. Next came public safety specialist Matt Mueller who assessed and bandaged Esslemont. Then Mueller slung Esslemont off the ledge on the longline while Vonk utilized a releasable system from the anchor to facilitate a smooth lift transition from the helicopter longline system. See attached video of the rescue.
All the public safety specialists are guides and climbers. They have almost assuredly climbed the routes they're rescuing climbers from and KCPS is always empathic to climbers who find themselves needing assistance.
"During the scene, I definitely have a job to do and focus on," said Vonk. "But after the scene, I feel bad for these people when they take big falls and get hurt. As climbers, we've all taken these big falls at some point. Some of us have gotten lucky and didn't get really injured."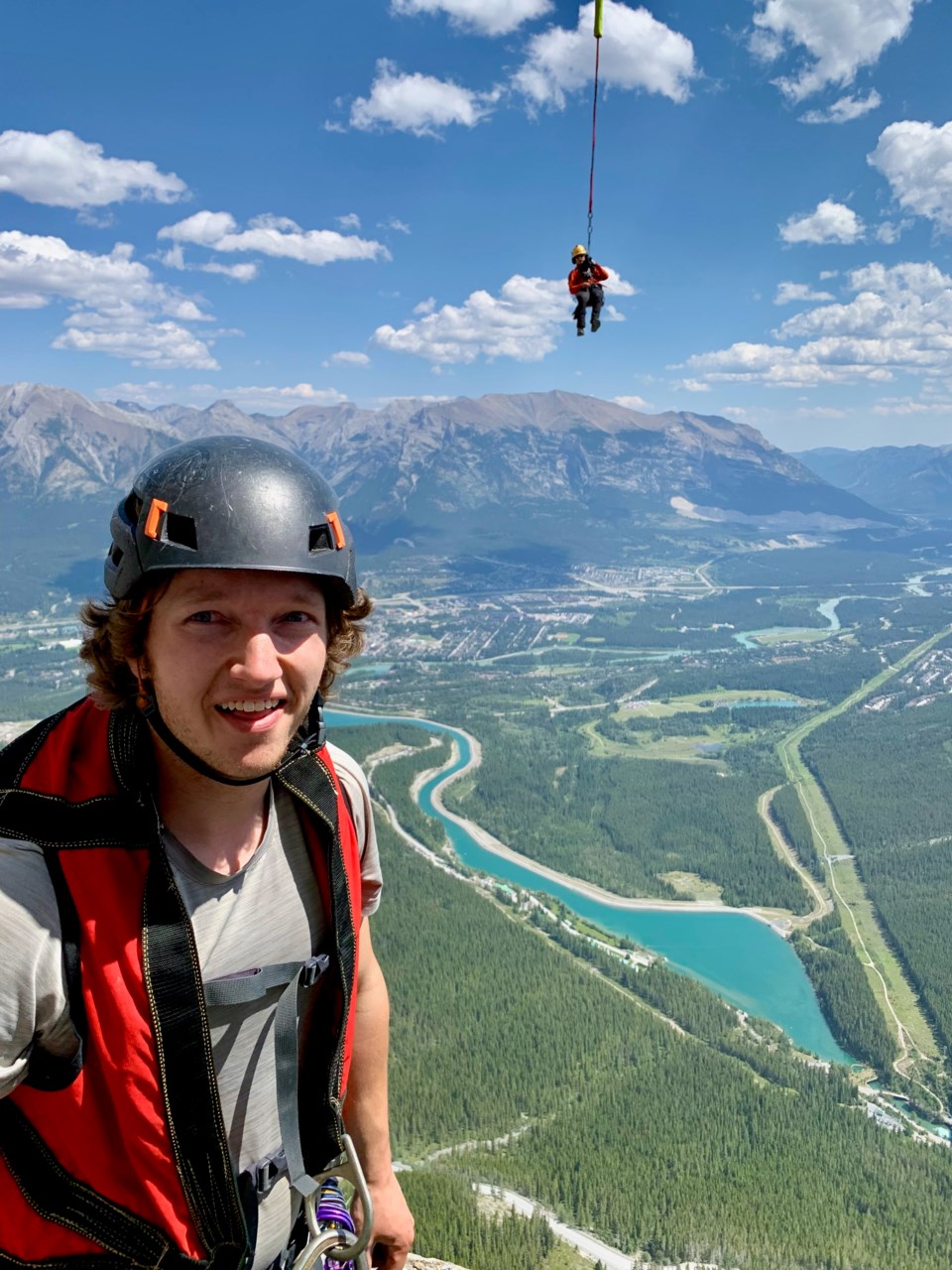 Back to the rescue.
"Visually that was probably the most incredible thing I've ever seen," said Blair. "It was like real-life Google Earth. It was just absolutely tremendous."
Once the pair were on the ground they were met by Banff EMS. Primary Care Paramedic Fabio Lacentra received Esslemont and started working on him. Lancentra, who is an avid climber, was happy to help.
"Matt is a good dude," said Lancentra. "Good sense of humour and attitude towards taking a leader fall. I'm glad he was not hurt worse. I have climbed Generosity a few times, so we had a great chat about the exact spot he fell from."
Esslemont got to the Canmore hospital and he was met by yet another climber and nurse Margot Ellis.
"It's very rewarding to be able to help members of the climbing community in my role as a nurse," said Ellis. "Understanding the events preceding medical attention provides invaluable context to what is then needed from the care they receive while in hospital."
Esslemont was checked out head to toe and although he was banged up, he had only a dislocated thumb and zero broken bones.
"I was out of the hospital and the sun was still out," said Esslemont, who promptly got a strawberry smoothie and 'timbits' he had been dreaming of since his injury.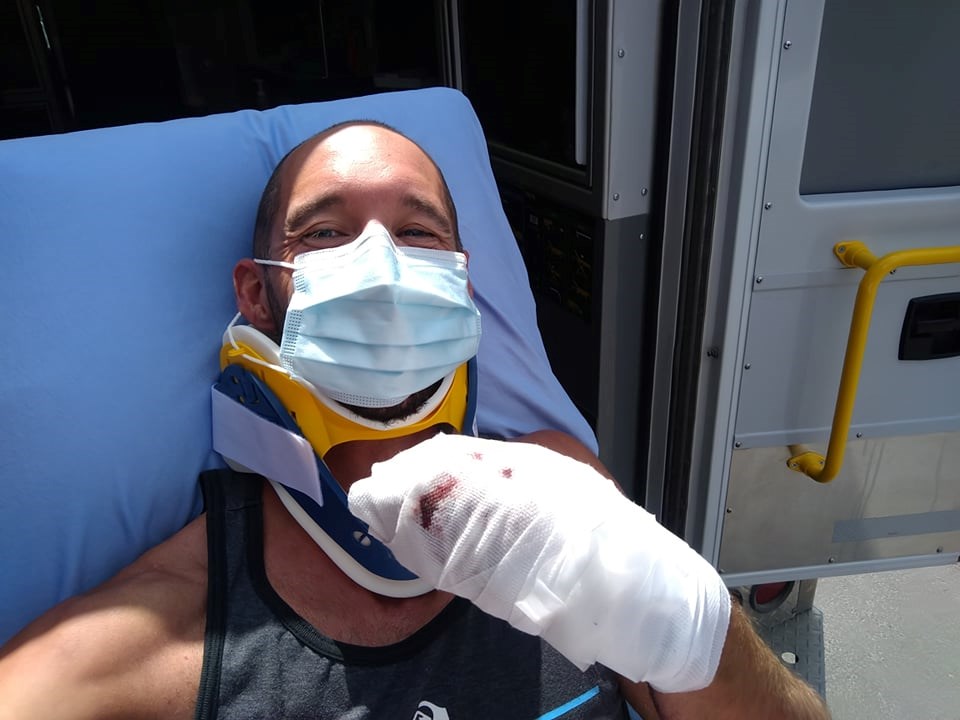 Later that evening on a Bow Valley climbing Facebook group, Daneau shared a few details about the recuse and a few things he had learned. It is crucial to have a communication device (they luckily had cell service) when things go bad quickly and having a minimal first aid kit really helps.
Facebook and the climbing community haven't always had the best relationship, however Daneau's positive post brought out a more supportive side.
"Typically, I don't even post on Facebook, but we have been avid backcountry skiers for years," said Daneau." I find that there's a lot more communication in the backcountry ski community about what went wrong, near misses, etc. Whether we're new climbers or experienced climbers, there is always room to learn from the experience of others, which is why I thought it would be worth sharing with the community."
The reaction from the climbing community mirrored that of all the first responders who helped Esslemont.
"I feel like there are always going to be people who talk down to others on the internet. But no one did that," said Blair. In fact, that gear that was left on the anchor he built was returned to him by another climbing party who saw the post.
"People were really supportive and really concerned for me," says Esslemont.
As for Esslemont and Blair climbing together again: "Absolutely, we will definitely go back to that objective – once I am healed."