Christine Kaufmann is an old soul.
It is apparent in her art work. Hailing from Banff, Kaufmann's family has been in the Bow Valley for four generations and has always been inspired by surroundings – art and nature.
Kaufmann cites her grandmother, Jeanette Ford, as her "greatest influence." Ford, who was an artist, taught at the University of Alberta department of extension, but would travel around the province doing courses. Ford would also teach Kaufmann from a young age.
This kindred knowledge has lived on with Kaufmann and is evident in her timeless feeling paintings. Her soulful paintings invoke a sense of wonderment with classic hallmarks, like soft layers and light fades.
Besides painting and working in other mediums, Kaufmann owns Mountain Top Flowers, a florist shop in Banff, that has become yet another creative outlet and source of inspiration for the nature loving artist.
We sat down with Kaufmann to learn more about her process and what motivates her.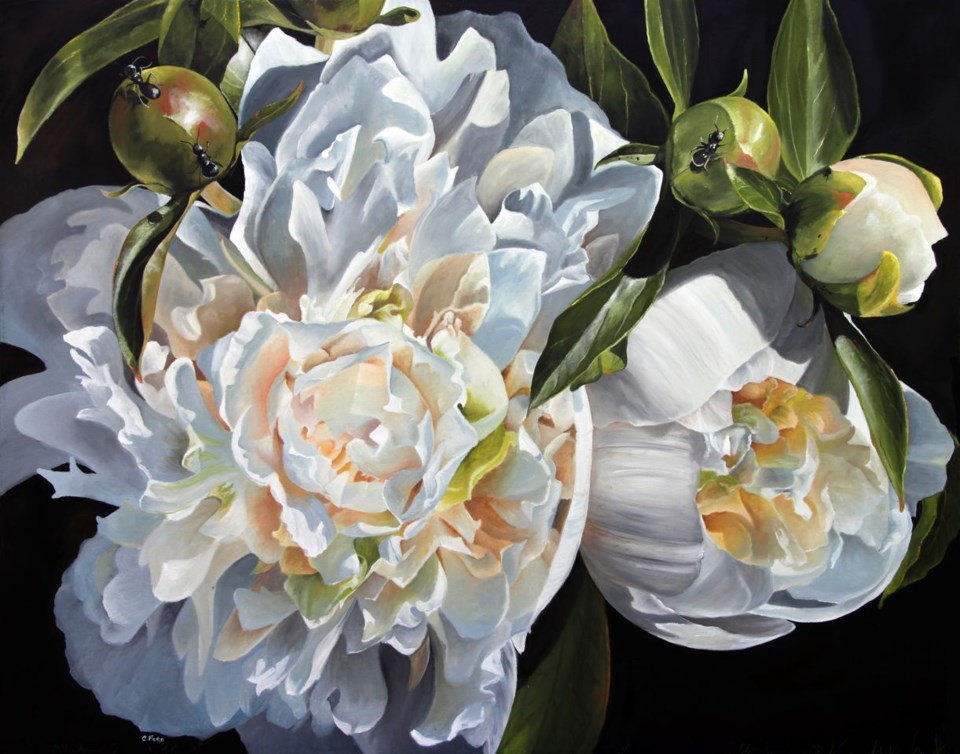 51° North: Your grandmother was an artist, what is your earliest memory of painting with her?
Christine Kaufmann: I can remember when I was about five years old sitting in her backyard with watercolour paints and she was getting me to paint her flowers. But one of my favourite memories was when I was about eight, we were having a family picnic out at Bow Lake and she had me set up with her easel painting the view when a tour bus arrived. All of a sudden I was surrounded with people and they were taking photos of us painting. I was so nervous and I looked at her and asked "what do I do?" She just smiled and said, "just keep painting".
51: Your landscapes feel timeless, but have an old soul to them, would you say this is from your grandmother?
CK: I would hope so. I love the idea of my grandmother still influencing my art direction and style. She loved painting landscapes and growing up looking up to her work. I hope I've been able to inherently mimic her.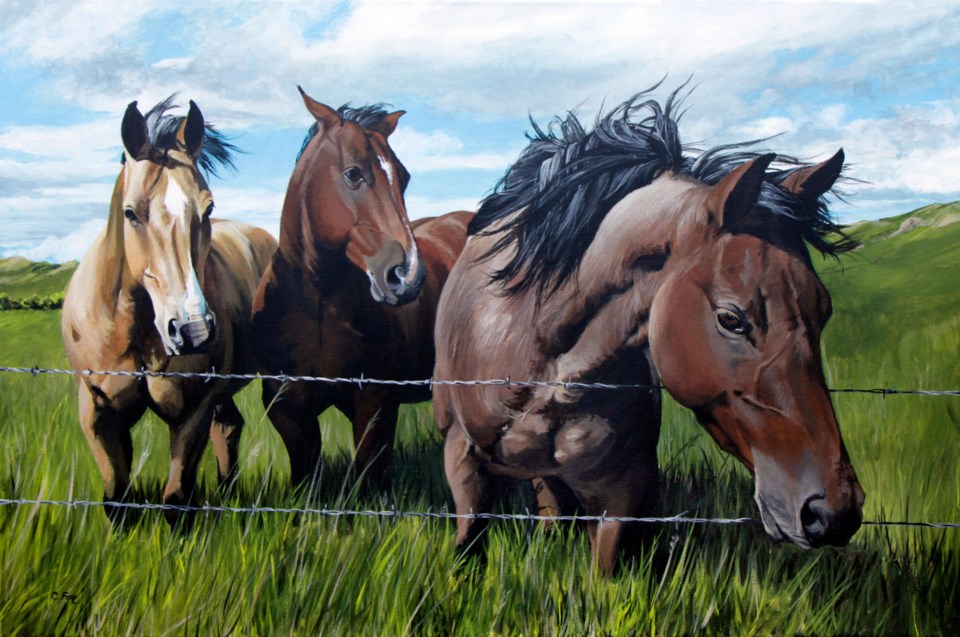 51: What other mediums do you work in and how do they inform your painting?
CK: I primarily work with acrylic and oil paints, but I also work with pen and ink. There was a time I was creating in scratchboard, but I haven't done those in a while. What I choose to use is based on the overall effect I'm hoping to accomplish. If I'm doing something more graphic I love using the pen and ink, but if I'm wanting to have more of a layered look I'll use the oils so I can build up.
51: Your animals are so subtly whimsical, is this a reflection of your passion for wildlife and animals in general?
CK: Growing up here in Banff has definitely made me an animal lover and I truly love painting animals and showing them in their happy, relaxed natural way of being. I'm lucky that wild animals have been a daily presence in my life and sharing how I see them is what I love to create!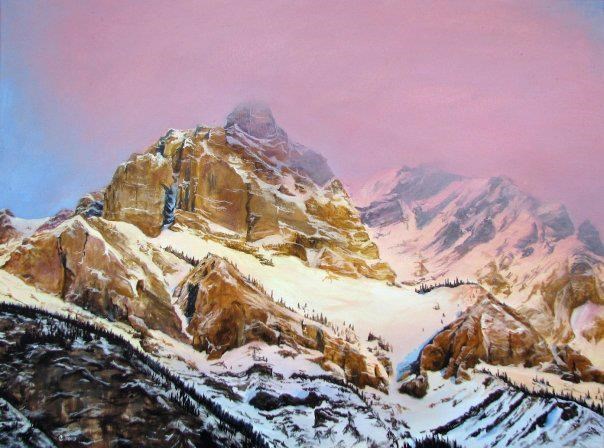 51: You aren't afraid to use a smokey texture to your work and give an ethereal light in your work, can you talk a bit about this?
CK: I love building layers, especially when I'm using oil painting. I believe it adds a mood and feeling to a piece and almost allows you to step into it a bit more. I also have an almost unhealthy love of light coming through trees. My husband can tell you stories of how often I stop while we're hiking to take pictures… drives him crazy, haha!
51: What are you currently working on and what is next?
CK: I just finished a painting for a close friend of mine and I am just about to get started on a landscape commission. With the newest added pressures of my life, our shop and two young boys, I find I get less time to paint so I haven't been taking on too many commissions as of late. What time I spend behind my canvas is very special to me, so I want to be sure to paint things that make me happy. Painting has always been almost a meditation to me, I don't listen to music I just focus on the work in front of me. It's a time where I'm not thinking of everything else in my life or worrying... all it is, is me and the brush strokes.
Learn more about Christine Kauffmann at www.banffartist.ca