If eclectic was a genre, it would be the category that local artist Jermyn Ermino's music would fall under. Hailing from Melbourne, Australia, Ermino's soulful and bright sound is dynamic with hauntingly uplifting riffs. Ermino, whose single, Rainbow, released in 2020, is an amalgamation of his various influences and is a damn good pop song. Anyone paying attention will agree that this up and comer is an artist to keep an eye out for.
We caught up with Ermino before his show at the Radiant in Banff on Sunday November 14th. Here is what we learned.
51° North: When did you first pick up music?
Jermyn Ermino: I had somewhat of a musical family growing up, my sister Janine played piano, my cousin James played guitar and his sister Christabel sang.
I sang with friends growing up but I started with drums back in high school. Then guitar, piano, and singing. I also dabbled in DJing when I was younger, but I have only attended a short choir course when I lived in London for two years.
51: What kind of influences inform your music?
JE: Linkin Park, Paramore, A Day to Remember, I grew up in the post-hardcore scene, that's what my friendship group and I grew up listening to. Eventually I got into my indie stuff and kind of made my way back into hip hop, classical and more soulful jazz as I've grown up.
I listen to a lot of different music now like Nick Wilson, Tom Misch, Masego, Jacob Banks which is a lot more soulful and energetic but sometimes still has happy sad vibes. But, I still love my UK grime like Stormzy, Skepta and Dizzie where you have heavy dirty beats. In the UK, I spent time meeting so many different types of musicians. It really shaped the artist I am today.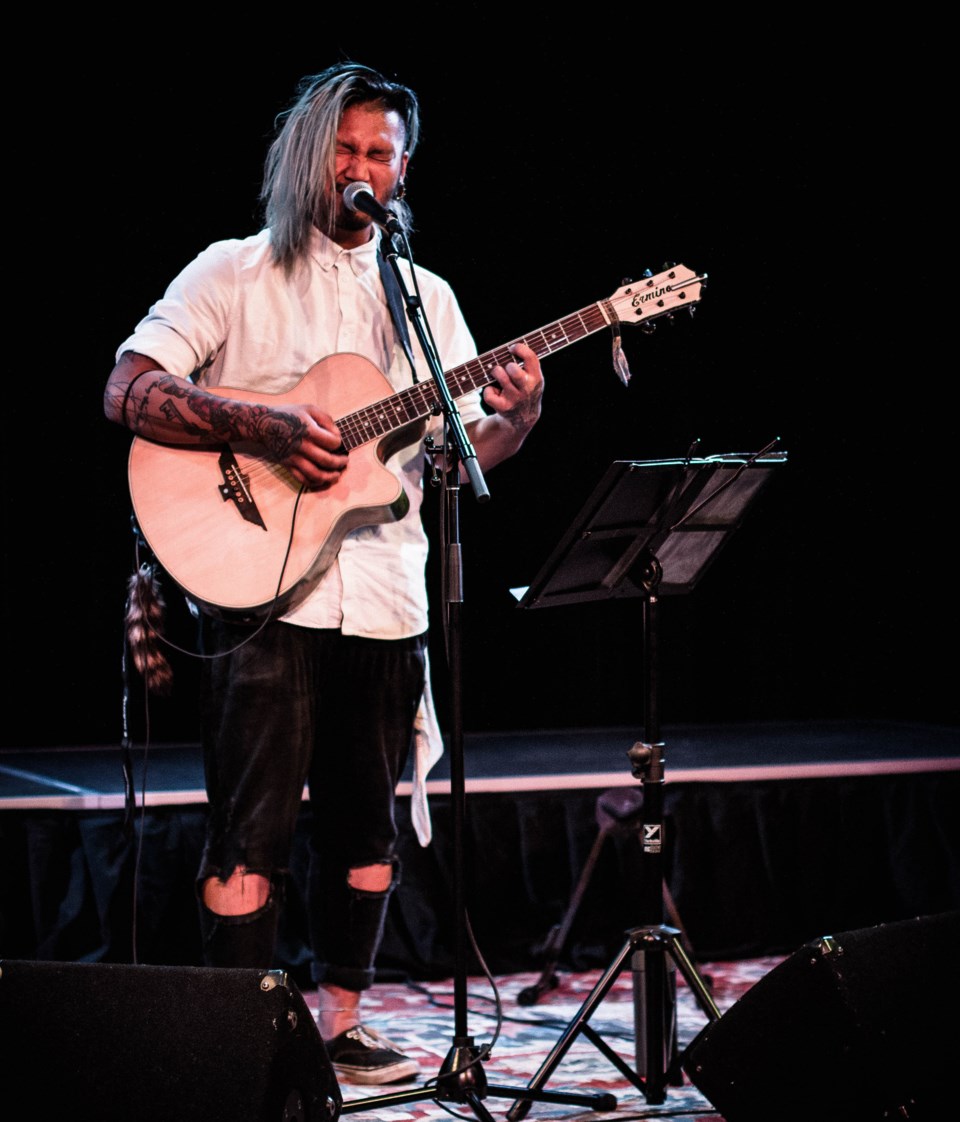 51: You have one song out, 'Rainbow' which has some production but also an unplugged vibe. Can you tell us more about what other songs you will be performing on Sunday?
JE: I guess my vibe is more raw and stripped back, it's feeling the energy that music can bring through and project. These songs are just from different times within my life telling different stories. You'll also see a lot of different genres/influences come into play like rap and folk indie.
51: Is this your first time performing since the pandemic?
JE: My first time back would be playing at the top of Sulphur Mountain for the Sunset Festival, and the Farmers Market but I did perform at the Radiant for their first open mic after Covid. I was told by Sebastian, Production Manager that I got the first standing ovation he's seen at the Radiant.
51: Anything else you would like to share about Sunday?
JE: I once played at the old Bruno's Bar in town, and after I finished playing a man at the end of the bar came up to me and told me he just got out of prison, he came to this bar because that's where he used to go with his friends before he went to prison. It was such a long time ago that the entire town had changed and that he didn't recognise a single face, but for the first time in a long time he smiled that night and thanked me. If anything at all, I wish to only achieve something as pure as that on Sunday.
To learn more about Jermyn Ermino, visit www.jermynermino.com
To buy ticket for Jermyn Ermino's show at the Radiant, visit www.theradiantbanff.ca