With a drum in hand on the breezy Stoney Nakoda plains, Kyle Logan Standingready-Snow recalls discovering song-keeping and powwows at a pivotal time in his young, impressionable life.
"I remember I didn't have a voice because I was going through puberty. My voice was crackling," said Standingready-Snow with a laugh, remembering himself as an awkward 15-year-old kid. "I tried really hard, but I wasn't getting there."
Standingready-Snow, is a member of the Stoney Nakoda (Yethka) First Nation. He is the grandson of the late Dr. Rev. Chief John Snow Sr. and is a traditional singer, traditional dancer and a strong advocate for youth, has been singing for half his lifetime. Although, the multi-talented performer is always looking for opportunities to grow, learn – not just teach.
"I like to say that you have to fail in order to succeed," said Standingready-Snow. "And that's me when I was 15. I was so shy because of my voice, I was not confident, but now 15 years later, people tell me you're awesome – you're perfect. But in my head, I still have a long way to go. I'm still learning. There's always more to be learned – all the time. Some people say, 'you can't teach an old dog, new tricks' – well, being 10 years sober, this dog can learn."
Safe Travels song - video by Evgenii Kozhushko, @evgeniikrem
"It actually belongs to a guy named John Boy Moosomin. It's called safe travels, but I sang it in Banff on July 1 for the 215 plus, Every Child Matters movement. I chose to sing it because I think it was appropriate for the children. There's a lot about the residential schools that isn't being told and how the number is higher. There are stories about babies who were thrown in fires to conceal that they were born, so when they finish counting all these bodies, the numbers are still going higher because of that.
There are more stories that are not being told that are unfolding. Stories about the people who ran away and aren't found or their bodies aren't found. It's hard to talk about, but at the same time – it has to be talked about."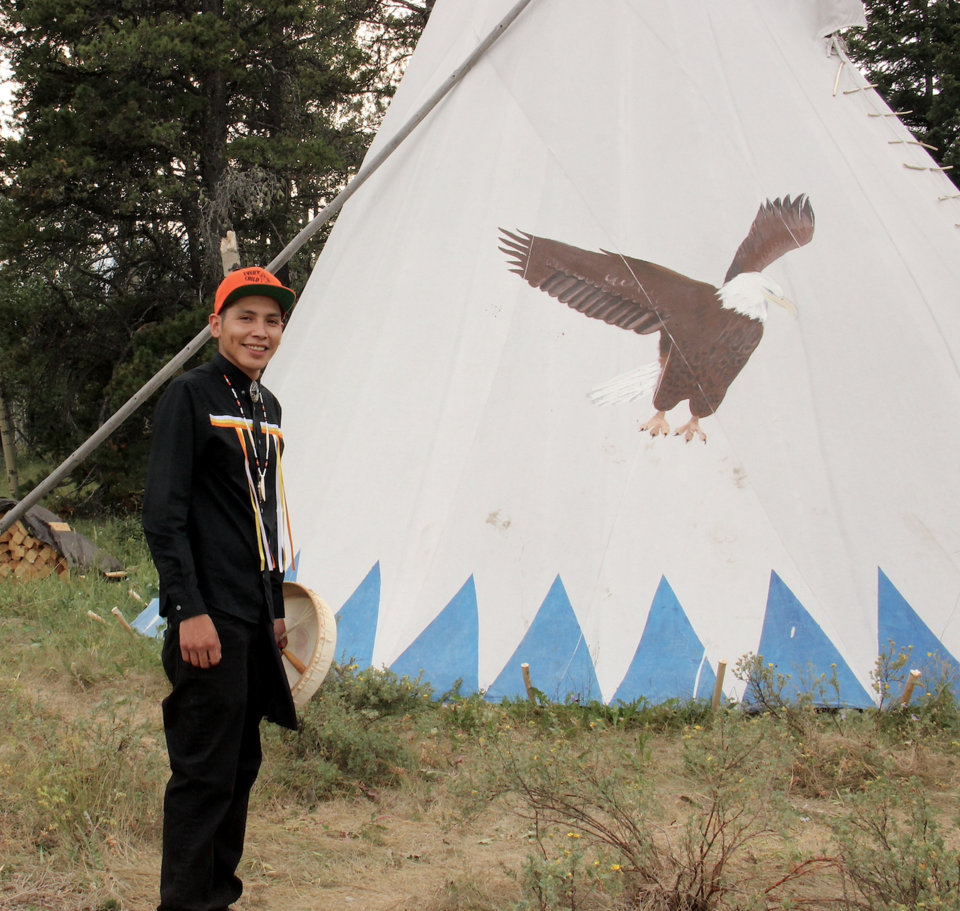 A magnetic personality, Standingready-Snow is a self-proclaimed "jack of all trades" and has acted in movies, danced in countless powwows and performed and written songs that have touched the hearts and souls of those who have listened.
"When I was younger, I didn't know who I wanted to be or what I wanted to do," said Standingready-Snow. "But now that I'm older, I'm starting to recognize that by learning all these traditional teachings and ceremonial teachings. I will eventually be passing them on to my daughter and to my nephews and to whoever wants to learn – whoever's willing to learn."
As Standingready-Snow moves into this role of teaching Indigenous traditions to Indigenous youth and non-Indigenous people, he stays humble. He is quick to always acknowledge the help of friends and mentors like Lane Mark and the late Titus Crow Spreads His Wings.
Standingready-Snow learned to be more self assured in his song and was able to find his swagger with the drum and his own voice.
"I have had a lot of mentors, like Lionel Crow Spreads His Wings, who brought me to Sundance where I learned ceremonial songs," said Standingready-Snow. "I went for a year to Invermere for the Beaverhead Sundance and I did years of the Sundance in the Lethbridge area. That is where I finished my drum keeping. Somebody can't just tell you or even teach you about powwows. You have to go there and experience it for yourself. Anybody could learn it, if they're willing, have the interest and respect."
This respect is something he doesn't spare in any aspect of life.
PowWow song - video by Andy Arts, www.andyartsfilms.ca
"I don't want to live my life in regret, and I do things for myself now," said Standingready-Snow. "Before, I used to care about what people thought about me, but I'm now, I am sober and I enjoy life and make memories. I'm trying to do my best and be a better person than I was yesterday."
Standingready-Snow urges everyone, especially the youth of his community to share this sentiment.
"It doesn't matter if you're 15 or you're 37 and you just get your licence. Or if you're 22 or 48 and you're buying your first house, it's all success. It's all progression. Everybody needs to try and everybody has their own time to progress."
For more info or bookings, email - kylelogansnow@gmail.com