The following piece was told by Îyârhe Nakoda Knowledge Keeper and student minister Gloria Snow along with her conversation with residential school survivor, Elder and medicine maker, Audrey Simeon.
Introduction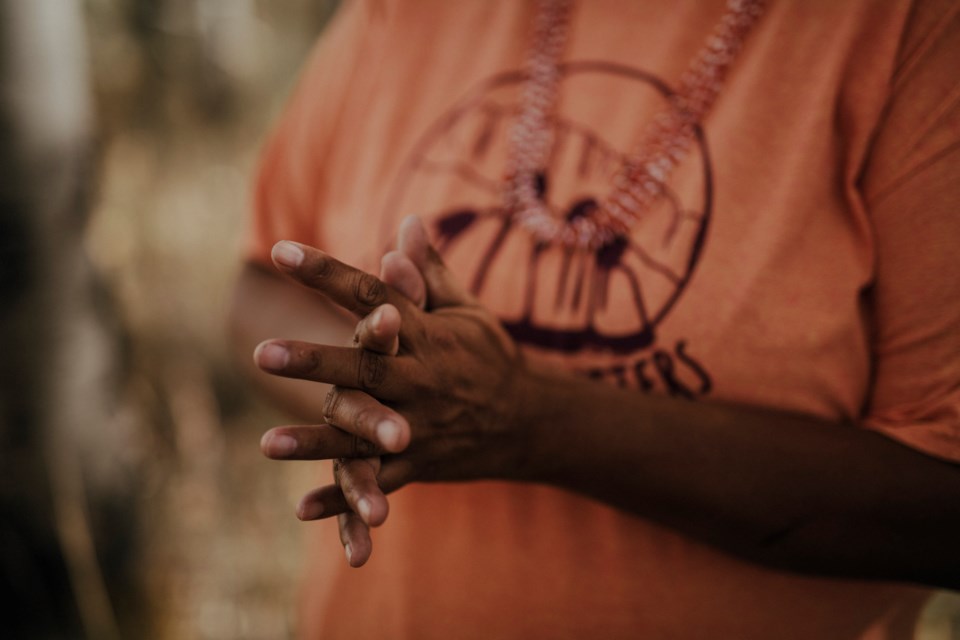 During this time of year is when Indigenous children were taken away to residential school. We honour the Indigenous children sent away to residential school.
We have the opportunity to learn more about the history of these schools and to make sure it never happens again. The orange shirt refers to the new shirt that one student, Phyllis Webstad wore on her first day of school. It was given to her by her grandmother. When she got to the school, they took away all Phyllis' items and her new shirt. It was never returned. For Phyllis, the colour orange always reminded her of experiences at residential school.
Webstad thought her feelings didn't matter back then.
"All of us, little children crying, and nobody cared," Webstad said.
After many years of deliberation, she shared her story. That's why we want to honour that legacy by wearing an orange shirt and by hanging an orange ribbon. This is how we move forward.
Paying respect in Mînî Thnî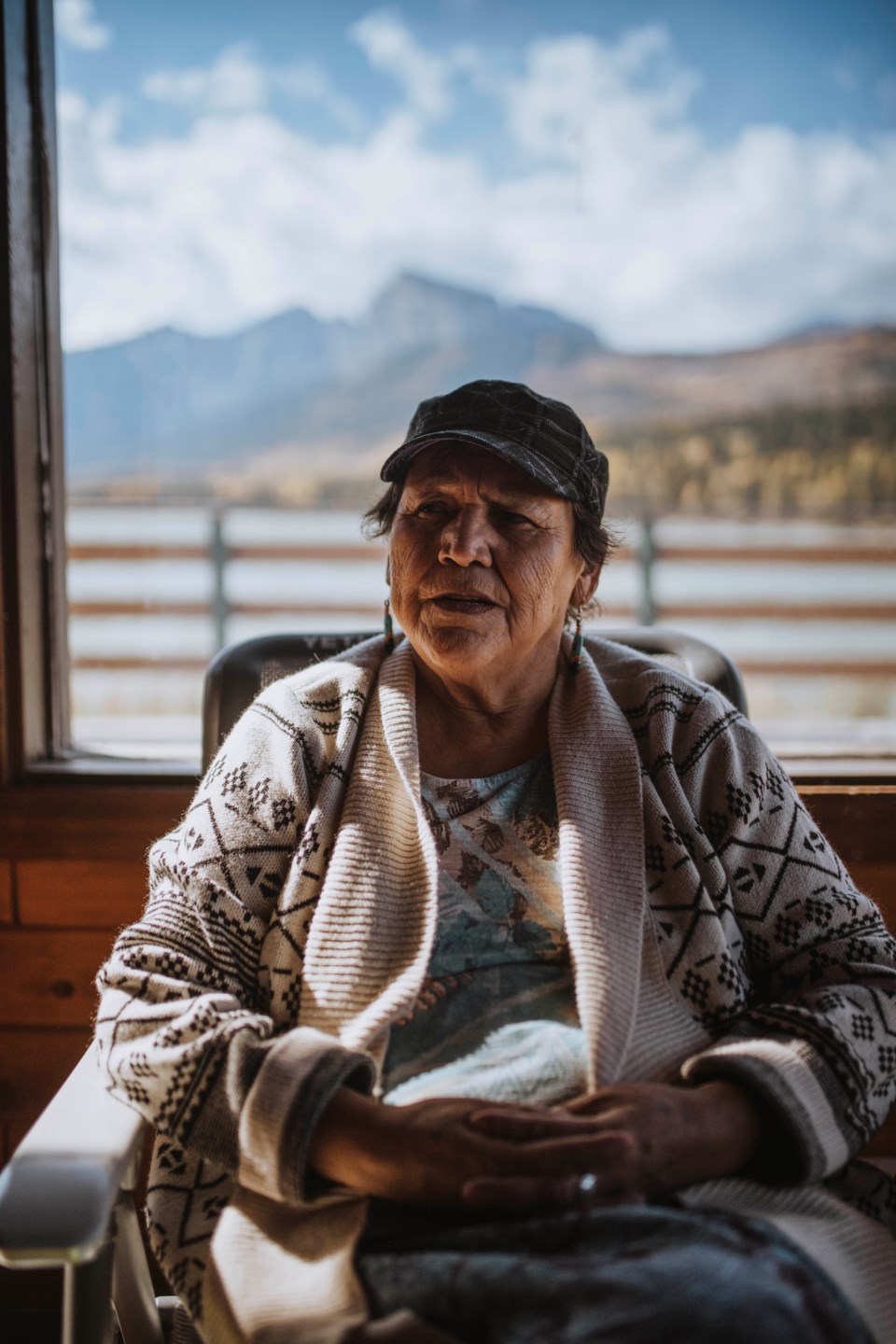 Some of our matriarchs in Mînî Thnî [Stoney Nakoda] wanted to have 215 plus observance. We have three vigil sites in Mînî Thnî. One is at the RCMP detachment fence. We also had a United Church site and the Stoney McDougall mission site, which were taken down and the items were removed.
It was painful for our matriarchs and for our Elders because they don't want the conversation to stop. With allies, our friends, from surrounding communities in Canmore, Cochrane and Banff, we restored the site at the Stoney McDougall with shoes, bears and art installations.
Being diligent about this is important.
Q&A with residential school survivor, elder and medicine maker, Audrey Simeon.
Gloria Snow: I spoke with one of our Elders, Audrey Simeon, about her time in residential schools and memories. It is powerful when our elders talk about these stories, it's sharing a pain. The legacy and the story of intergenerational trauma and violence.
Audrey Simeon: My sister, she's the oldest, she is 81 years old now. She used to tell us that there were bodies buried behind the school. It used to be an old residential school in Maskwacis. They said all the priests over there used to cut the hair of children short and treat them rough.
My late mom and my late aunties, they went to the schools too. They put them in wagons to get there. They said it was really pitiful how they were treated and it was getting worse.
I remember one time we slept there over the weekend and stayed at the school. We saw a girl die where we were sleeping. We don't even know where they buried her. They didn't explain it to us.
They just did everything to us. If you were born in my days, you would have seen how they treated us.
When you talk about what happened to you, you can see the suffering. We weren't allowed to be the boss of ourselves. There was no love. It was nothing. We couldn't show emotion. You couldn't speak up.
GS: You became desensitized from the horrors and the PTSD that you were experiencing as a child. And that carries forward. Your memories, your sister's memories, those are painful to carry but necessary to share.
This is one of the things needed to have real reconciliation and some real healing. Sharing stories is difficult. I commend you for sharing.
It's a painful history. Telling it to future generations is important so they will not have to experience the atrocities our elders did. It's the work of reconciliation that we do as Indigenous knowledge keepers. We look to try and find positive ways.
What's one hopeful message you could send to people on this day?
AS: I want to send the message that we can talk about this stuff, how we were treated. Tell your story, talk to your grand kids. It helps people who don't understand what we went through. Finding the bodies is proof to this world.
Some Elders wonder: What if it comes back? That's why I pray. My husband was a pipe carrier and I make medicines. I pray for people, the kids – my grand kids. This generation, I want them to get education and watch themselves.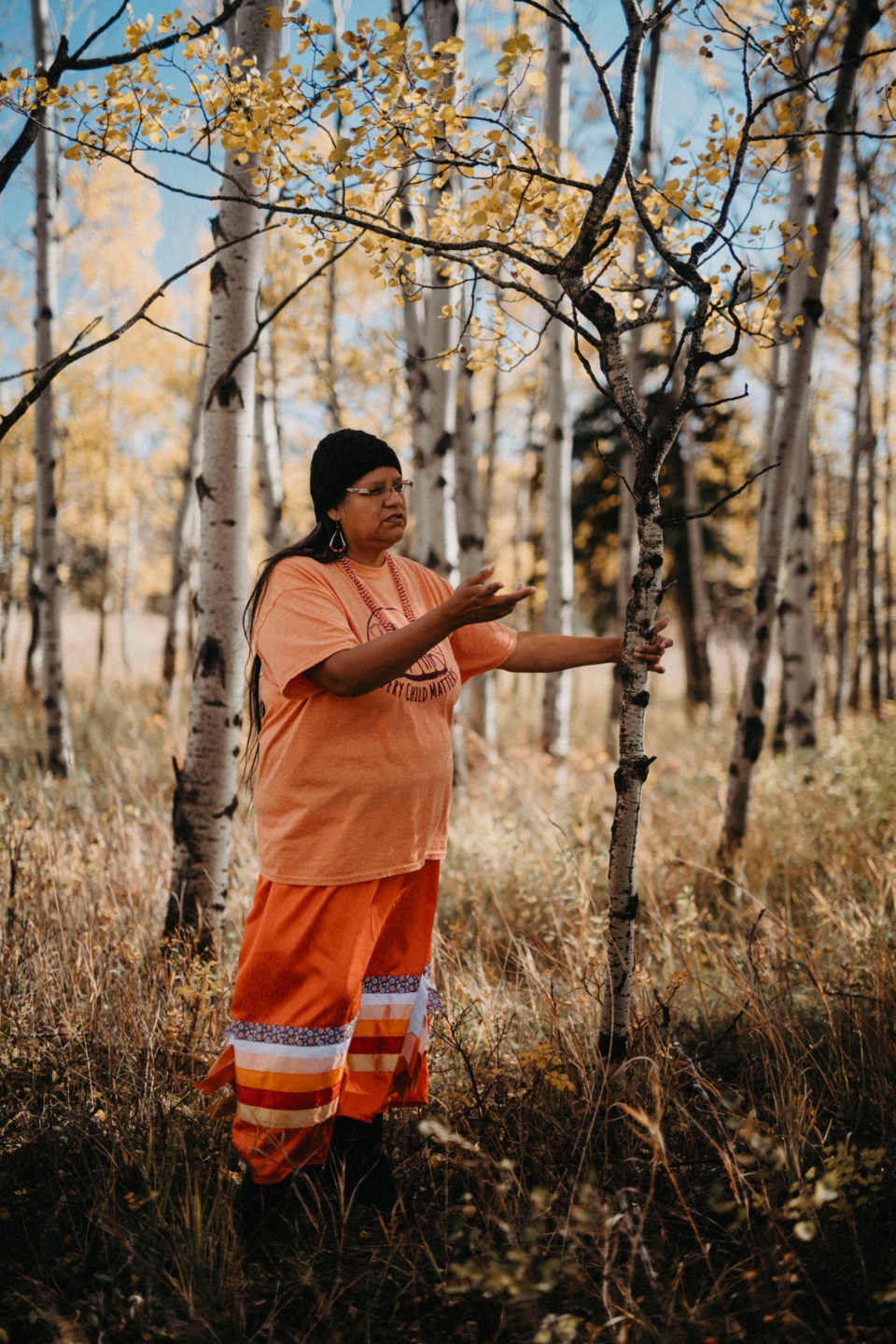 GS: Being diligent about caring for our kids, because people have made the comment that the residential schools never ended and have perpetuated into the child welfare system. The child welfare system has taken over where the residential schools left off because our parents are deemed not fit as parents. Children are apprehended and put into foster homes or put in situations where they didn't have a choice.
Raising awareness for residential schools, for the Orange Shirt Day and for the painful memories, there's also a resiliency, a healing to understand and move forward in that healing in a good way.
Just like in articles, 71 to 75 in the Truth and Reconciliation Commission of Canada (TRC) - to have burials and the proper laying to rest of these children, commemorating their bodies and doing proper ceremony and prayer. This is our Indigenous way of coming forward to give them peace. As people familiarize themselves with TRC and read the 94 calls to action – find one that speaks to you and find steps and ways to act. Call to action for yourself, whether it is wearing an orange shirt and or working through building relationships with Indigenous people. I think that's the legacy.
Learn more and support Orange Shirt Society and the Indian Residential School Society initiatives.