I wouldn't have found rock climbing without the queer and trans community. The first time my boyfriend took me to a giant, super-intimidating gym and helped me perfect my clumsy figure-eight, he also taught me that I was allowed to occupy a space I thought was reserved for white, straight, cisgender bros. The value of this queer and trans mentorship stuck with me — we need to "hold each other up" in more ways than one.
Since moving to Calgary, I have had the opportunity to facilitate 2SLGBTQ+ climbing events with some incredible organizers. I recently sat down with Ren, an ACMG Rock Guide, to chat about our mutual dream for an anti-oppressive, decolonial, queer and trans climbing revolution in the Rockies.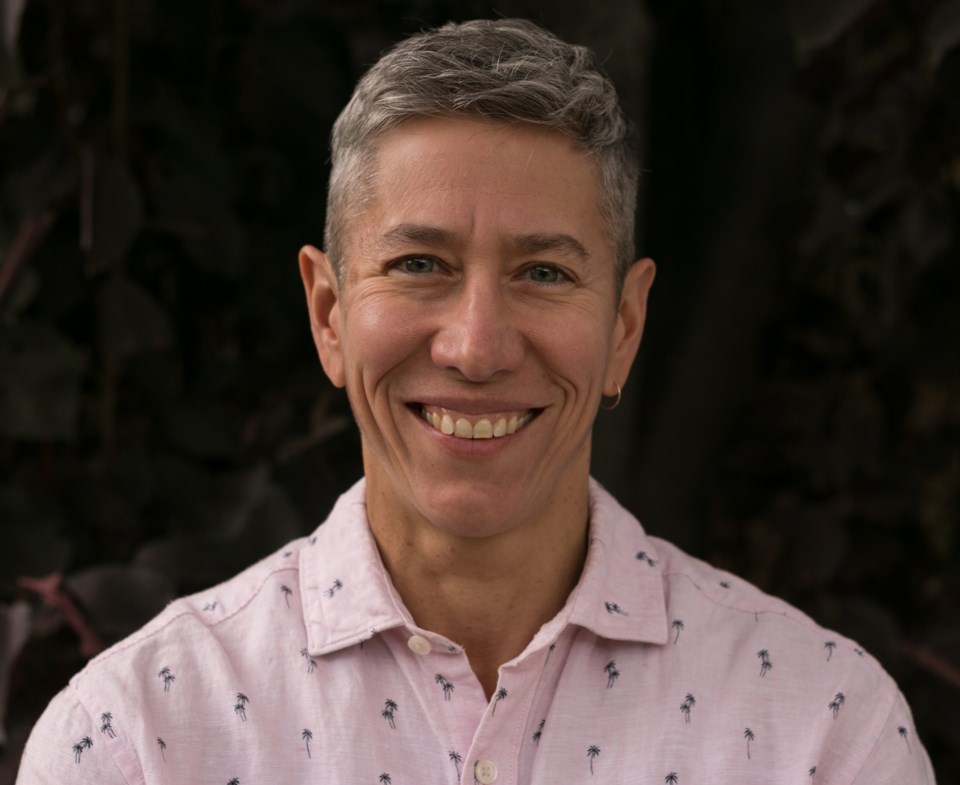 TW: This summer we ran three 2SLGBTQ+ climbing days in Kananaskis Country, on Treaty 7 territory. How did these spaces have an impact on you as someone deeply involved in the industry?
RL: That grounding feeling that you get when you're in a space where you are seen and accepted with compassion for who you are is something that is rare for many of us. I had felt this before at urban queer events but had grown used to partitioning my identity as a queer climber from my work as a Rock Guide. What changed this season was me: I realized that as someone with certification and as a white person, I had the capacity and responsibility to help create queer spaces that were accessible, anti-racist, and decolonial. This summer, for the first time in 16 years of instructing, I was surrounded by a group of queer and trans climbers from diverse marginalized identities. It felt like a homecoming.
TW: Can you share a bit about our team and your thoughts on the value of collaboration?
RL: We started assembling our team in early March, with the vision of bringing together different skills, backgrounds and identities (people of colour, trans, non-binary, queer, etc.) so that we could create a space designed for equally diverse participants. Our team included folks who work in queer non-profit organizations (Eddy Robinson, Skipping Stone Foundation; and Rosanna Sing, Centre for Sexuality), a queer academic who contributed knowledge on creating anti-oppressive spaces (Tobias Wiggins, Athabasca University), and two ACMG Rock Guides. We supported each other through difficult conversations, mentored each other along the way and shared the workload of organizing and facilitating these events. The result was heartwarming
TW: What would you say is needed to transform outdoor spaces, making them more inclusive and dismantling the status quo?
RL: To echo what countless BIPOC folks have said before me and to quote Anaheed Saatchi: "The way forward for the outdoor industry is to be in conversation with different groups and to be adaptive to each other's needs." We've recently seen organizations take steps towards promoting a more inclusive environment, such as providing funding for programs. Over the fall and winter, let's keep the conversation with existing grassroots BIPOC, 2SLGBTQ+ and disability centred organizations going to ensure that this momentum is maintained and leads to equity and sustainable social change.
2SLGBTQ+: Two-Spirit, Lesbian, Gay, Bisexual, Transgender, Queer, and more
BIPOC: Black, Indigenous, People of Colour
Dr Tobias Wiggins (he/him) is an assistant professor of Women's and Gender Studies at Athabasca University. When he isn't teaching, conducting community-based research, or advocating for transgender folks, he can be found hiking mountains in the Rockies with his two very stylish pups, Gucci and Gratch.
Renée (Ren) Lavergne (she/they) is a rock guide based in Canmore, AB on Treaty 7 territory. They love creating climbing spaces where 2SLGBTQ+ folks can connect with the land, with their bodies, and with community. When they aren't climbing, they double as a librarian and help find order and beauty in chaos.