​​Iva Geddes-McNabb of the kettlebell kickboxing kokum, her wise cracking private investigator daughter Heather Geddes and their gentle but mighty friend Carlene Hotomoni, make up Three Feathers.
Three Feathers are traveling by foot from Saskatchewan to Kamloops along the highway to raise awareness and honour the lives and lives affected by the recently recovered graves from all the residential schools.
The women often put in 60-kilometres-a-day and share the walking an hour at a time while the others rest and follow closely in the car behind.
They walk fast and keep a steady pace of typically 7km/h, but they will gladly downshift to chat, receive gifts and well wishes from passersby who stop. They also are joined with others who walk in solidarity.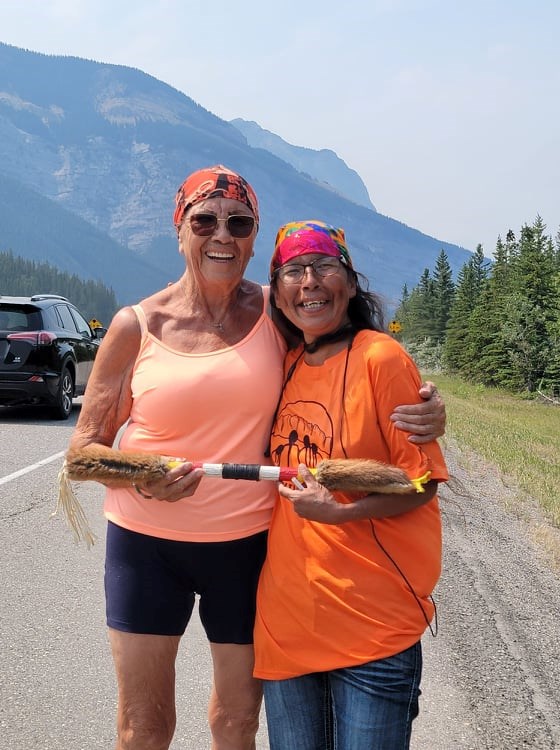 Geddes-McNabb – who is 73 years young, has 35 grandchildren, 38 great grandchildren and one great great grandson – is fiercely devoted to her journey. She is praying each step for the children discovered at Kamloops and all the people who suffered from the residential schools – people like her parents.
"Ever since I remember, they were alcoholics because they didn't know how to deal with the physical, emotional, mental and spiritual abuse that happened to them," says Geddes-McNabb. "They lost their language because they weren't allowed to speak Cree when they were in school if they were caught they were beaten. Because they were taken from their parents, they lacked parenting skills. They didn't even know how to show affection, we were never told 'I love you' or didn't get hugged. I also became an alcoholic at an early age because I believed that was a normal way of life. However, I've been sober for 26 years."
As strong and determined as Geddes-McNabb is, she never fails to get emotional when talking about the schools. That is part of her power and her ability to keep her heart and the hearts of those who follow the Three Feathers wide open.
"My belief regarding the residential schools is that we need to share with someone we trust and accept it. It's the only way we will begin healing,"says Geddes-McNabb. "If we don't – we will continue to blame the residential schools and our parents for our negative actions. For me, I haven't forgotten but I've found forgiveness in my heart for all that has happened. I believe if we don't forgive, we will never be happy."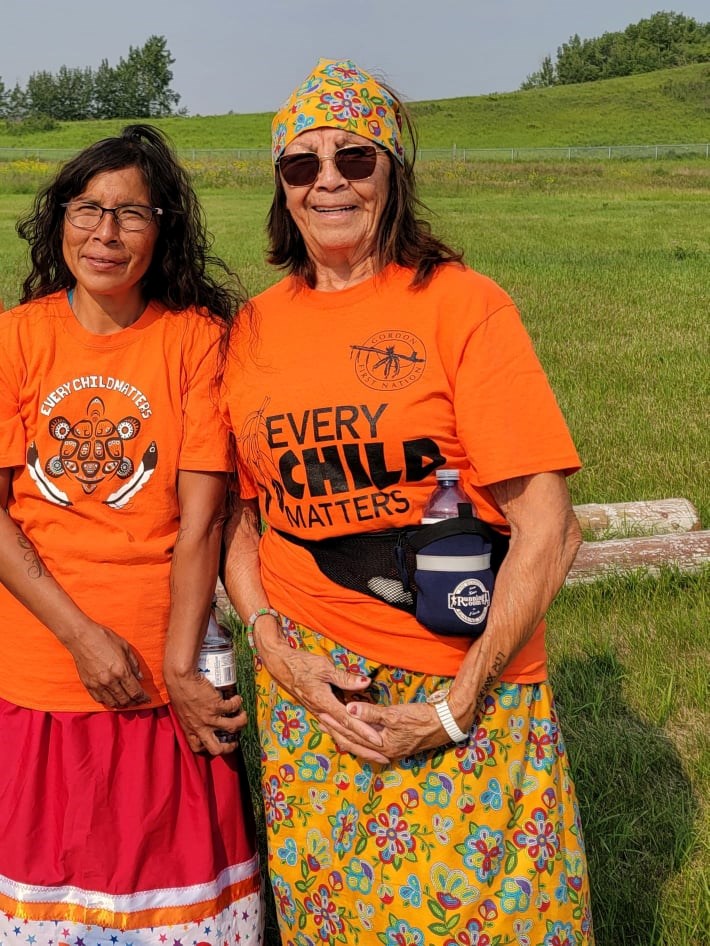 This passage has brought many tears, but it has also brought jubilation.
Geddes and Hotomoni – the other feathers – help provide joy and laughter, keeping their kokum in stitches.
"They say you're only as young as you feel. I'm young with these two," jokes Geddes-McNabb.
The connection between the three women is infectious, leaving a lasting impression on everyone they touch.
"I am supporting the efforts of our elder Iva Geddes-McNabb, who hails from George Gordon Reserve in Saskatchewan," says Gloria Snow, who welcomed Geddes-McNabb to Morley and has been walking with since. "Iva has been walking since Regina and is actively an elder role model for us all. I support her as she is walking for our recovered babies and all residential school survivors to Kamloops residential school. I am proud to walk with her as she journeys through our beauteous Stoney Nakoda Territory as a helper and supporter."
Snow, who was Miss Indian World in 1993/94, sees Geddes-McNabb as an important role model for youth.
"I feel it is incumbent for our youth to find positive and true good works to follow. I hope to continue walking with her as she is truly an inspiration!"
Please visit the Three Feathers page to get their location, give support and to make any donation, you can e-transfer to ivageddesmcnabb@gmail.com