Makaylah and Fia-Lynn opened Frankie D's Donuts in 2020. The name "Frankie" is inspired by their bubbly labradoodle. The business grew quickly and now pre-orders sell out within minutes. It's easy to see why! Each donut is hand made and hand cut in small batches. While the Strawberry Dream is always in top demand, donut lovers also clamor for the classic maple glazed, vanilla, and old fashioned donuts. Speciality flavors include brown butter banana, wild blueberry basil, lemon lavender, and more. To get Frankie D's Donuts, you must watch for the "Donut Day" announcement on their website and pre-order. Filled orders are then available for pickup at the side door of Tavern 1883 between 11:30 am and 1:30 pm.
Frankie D's Donuts is very invested in the community, donating 100% of Donut Day tips to a variety of local charities such as Bow Valley Victim Services, Eagles Nest Shelter, Spirit North, Canmore Pride, Banff Pride, Cochrane Humane Society, Rocky Mountain Animal Rescue, Tiaho, Hope for Kids, To Write Love on Her Arms, and Bow Valley SPCA.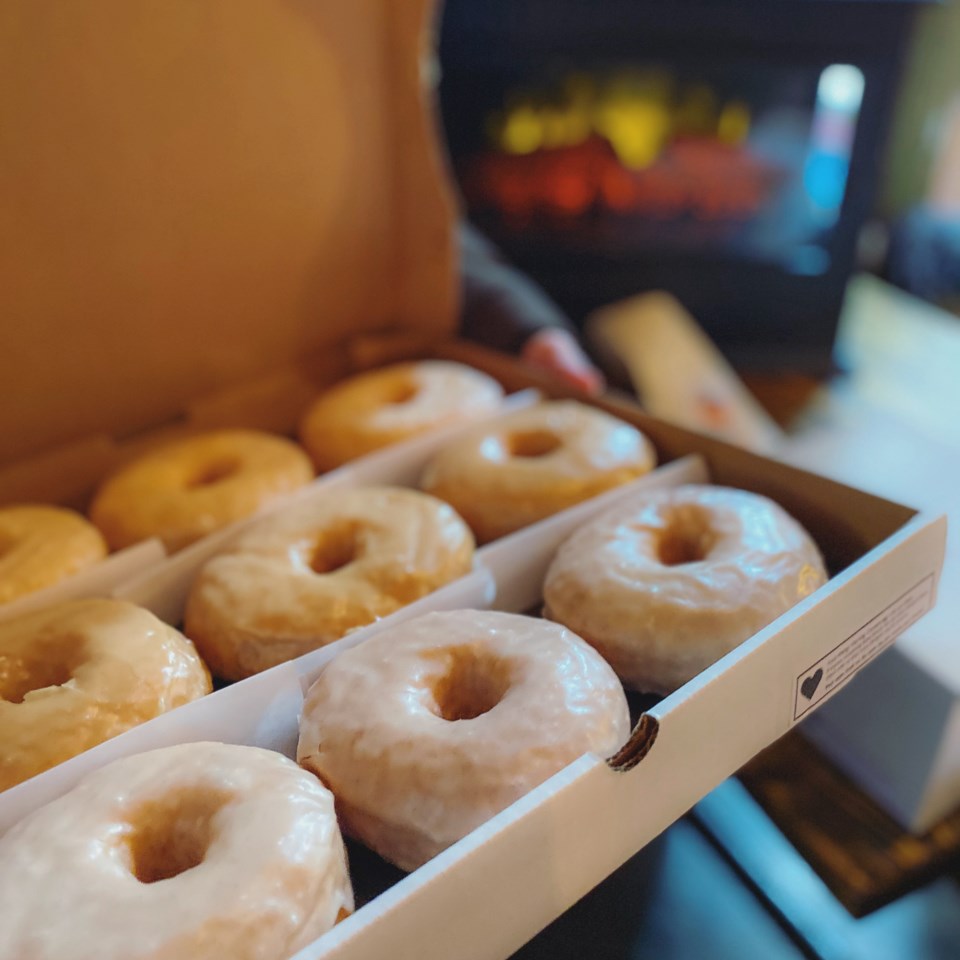 Both Makaylah and Fia-Lynn enjoy colouring and find the activity calming and grounding. To inspire others to try the craft, they have just wrapped up their second colouring contest. Open to both children and adults, the winners will be selected and announced on Frankie D's social media. Local Bow Valley businesses were happy to get involved in the contest, and provided the 30+ prizes that are headed to the winners.
New flavours and fritters are in development, and Frankie D's Donuts continues to grow in popularity so stay tuned to their website and social media feeds to learn more. Order fast on Donut Day and sign up for the newsletter so you are among the first to know when new flavours come out.
To learn more, visit – www.frankiedsdonuts.com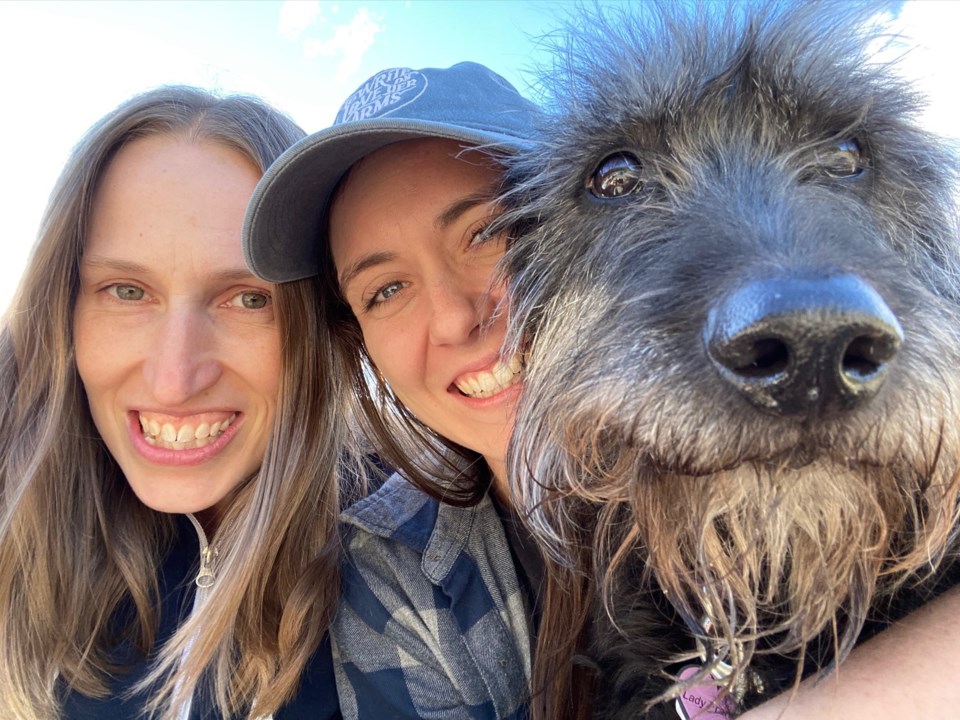 A message from Frankie -
Woof! Hi there! I'm Frankie D! My moms (hooman names - Makaylah and Fia-Lynn) did something delicious in 2020 – they let me start a donut business. You see, my favourite treats ever are the donuts my moms make, and I convinced them to let me share the deliciousness and joy with more people by starting a donut business, making made-from-scratch donuts for hoomans and doggies. My second favourite thing in the world is to say hi to hoomans and dogs on my walks, cause I see the goodness in everyone I meet and it makes me tail wagging happy. I run up to say, "hi you're great! You deserve a smile. Keep going!"
I'm the face of the company. My moms say it's because of the way I inspire them with my boundless love and goofy personality, but the truth is, they inspire me just as much. My moms love each other. It's great! But not everyone thinks so. They both know what it is like to be told they shouldn't love each other or can't be themselves. Because of homophobia, religious and/or childhood trauma, misinformation, and discrimination, many hoomans in the LGBTQ+ and other vulnerable communities disproportionally suffer from depression and anxiety. I believe that everyone deserves to feel safe and to be themselves, and I feel sad knowing so many people don't feel this way. People are marginalized and discriminated against because of their culture, race and ethnicity, gender, sexual orientation, age, disability, socioeconomic status, appearance and more. If someone told me that being myself wasn't right, okay, enough, or loveable, I'd feel sad too! So sad!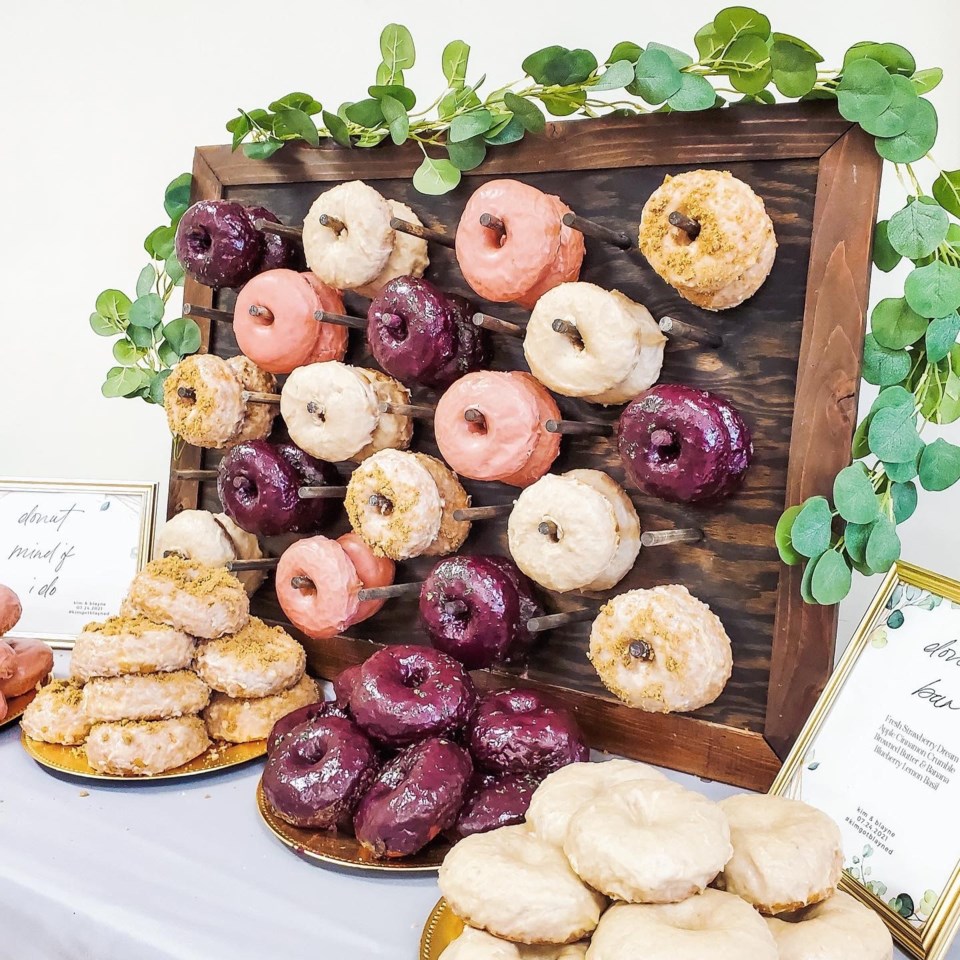 The thing is, I've noticed that everyone hooman feels sad and struggles sometimes. It seems like a part of being hooman. I just wish they all talked about it more so they wouldn't feel so bad about themselves or alone.
I have seen my moms feel really sad, lost and alone at times, have hard days, weeks and even months. Something that helps them is doing what makes them happy as much as they can, and always having something to look forward to. So, they wanted to do something to help give this to others. I love treats… who doesn't love treats? My moms give me treats everyday, and I thought that hoomans deserved the same. So, I guess I kinda inspired them to make treats for you. And those treats are donuts, made from scratch with SO MUCH LOVE!
Since I love everyone, even cats (I'm trying to kiss you not eat you kitty) I share that love everywhere I go! Which is why you'll find me and my moms donating 100% of our tips (and some free donuts) every Donut Day to causes and charities that are close to our hearts.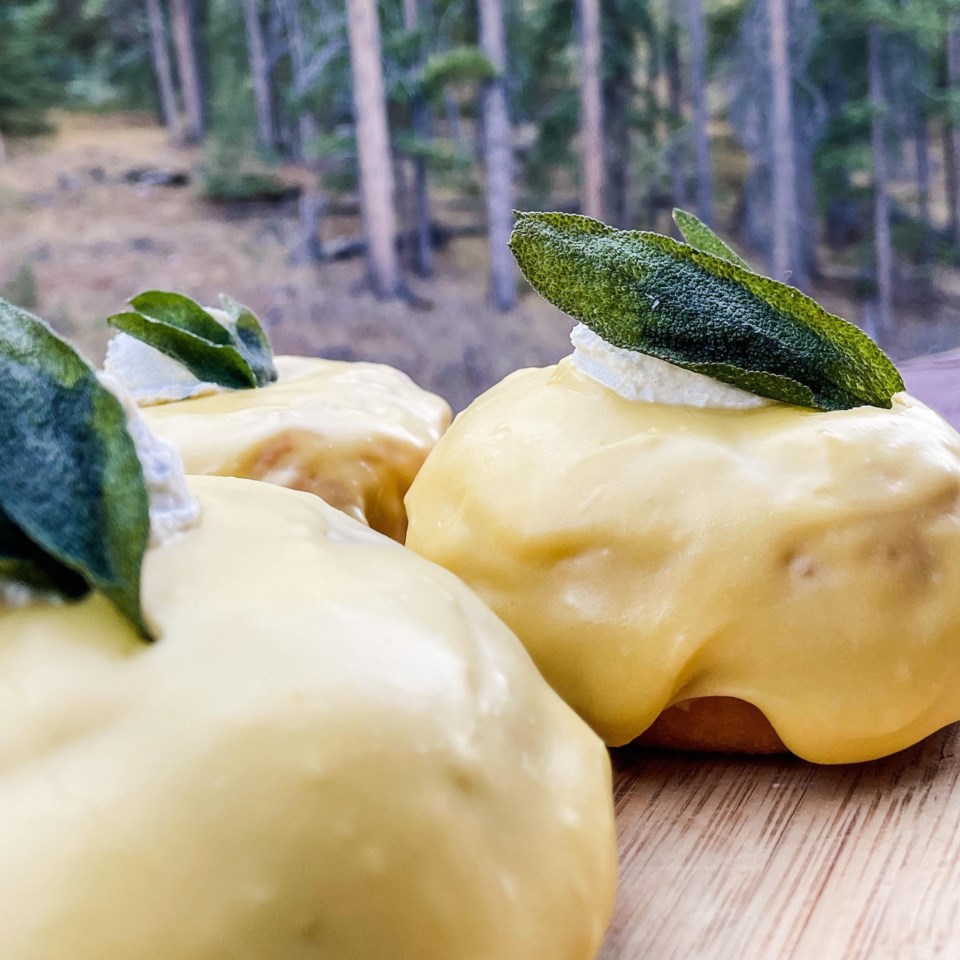 My moms also use their baking platform to help adults and children with a free way to lower stress – colouring! They saw how colouring grounded them, so now they hold an annual coloring contest for kids and adults to give them a reason to pause from the busyness of life, find some joy and let their inner kids out to play. I'm paw-sitively excited to look at all the entries with my moms and help draw the winners for more than 30 prizes donated from local businesses across the Bow Valley. I'm busy typing up the winners list for our social media (but my moms are good at helping me cause I don't have thumbs).
If you're trying to decide which donut to try first...my favourite treat is the strawberry donut featured on our logo. It's the fan favourite too even though we have so many delicious flavours. Now remember, it's just my moms baking (I try to help but again, no thumbs. I bark encouragement over the phone to keep them going) so they work on a pre-order system. You gotta be as fast as the shy cats that run away from me cause when pre-orders open, they can sell out in as little as 10 minutes! Donut worry though, we have a donut day listing on our website, a newsletter, a donut miracle waitlist, and more to help you get your hands on some of our made-from-scratch treats. See my website for details.
Now remember, all are welcome at Frankie D's Donuts. We love and celebrate everyone of all genders, sexual orientation, abilities, bodies and brains. Whether you are neurodiverse or neurotypical, bald, teeny tiny, were born here or somewhere else, have feather or fur, or if you are a cat or squirrel.... you are welcome and you belong. You deserve to be happy, you deserve to be seen, and you deserve a treat!
We can't wait to meet you soon, and to make you a special delicious treat made with so much love! See ya soon at pickup or around town. Woof! I love you, and remember, you're doing great at this thing called life.